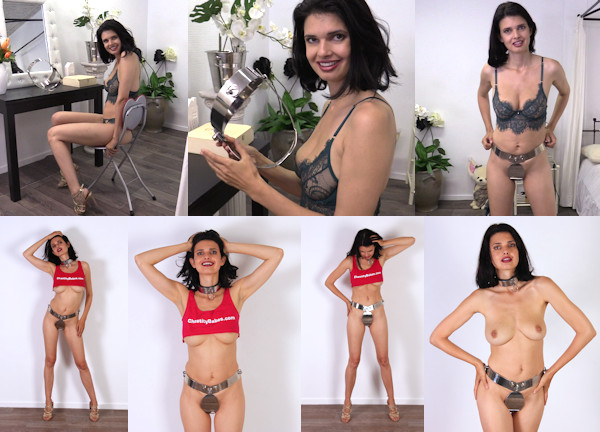 Playmate Yasmine always seems to show up when I have a new belt. She is my test subject, a very gorgeous one! This time she dropped by and I had a unique prototype from BehindBarz for her. They only make male chastity belts, but a while ago I asked them if they could think of a way to make a female belt, as I liked their design very much.
They came up with a prototype and very kindly sent it to me. Now Yasmine is the first model to try this belt! It has a nice wide shield, double high security locks and a wire back with an anal opening. It also has a perforated shield for peeing, so there's no reason to ever take it off! The design is already very good and proven in their male belts, and it's easy to adjust the waist band and the rear wire.
Yasmine was very intrigued by how small the waist band looked, but she probably had forgotten she has a very tiny waist herself, and it needs to be tight! I made a little Deal with her, you will hear it in the video. I also took her to the studio to do some promo pictures in the famous ChastityBabes.com promo team t-shirt, which was of course way too short for Yasmine's big boobs. I did not mind that at all, as I'm sure you don't either!
Yasmine is so stunning, I still can't believe I managed to get so many professional models in chastity! I will keep finding you the prettiest girls and the latest in chastity belt innovations, stay tuned for more surprises soon!!