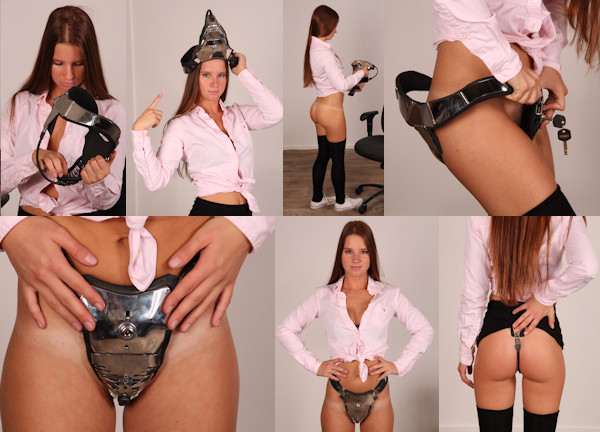 Remember cute shy Jessica? She was hard to convince, but eventually she was brave enough to do a whole series of shoots with me. She did a Casting, and then she tried a very heavy belt, and I kept her in pink full chastity for a while.
It was hard to resist her cute pleading eyes, and maybe I always let her out too soon. She was just very curious, but she didn't say much at all. Still, I really loved having her around, she is a sweet girl!
At some point, I even showed her a Carrara belt and challenged her to lock herself into it. This is a high security belt, with integrated locking system and unique keys. There is no padlock and it is tight but very comfortable. I like the bulkier look of these Carrara belts! It really looks very secure on a tiny cute girl like Jessica. Her bubbly butt is lifted even more by the wire back of the belt, it is such a great look!
Surprisingly, when Jessica put her tiny black skirt back on over the belt, it was pretty much invisible! I guess without the padlock bulk in the front, it is easier to hide. Imagine how many girls you may have passed in the street that were locked into a high security Carrara belt!
Enjoy this update, it comes with a nice large picture set, and the undeniable charm of the shy but slightly naughty Jessica!!