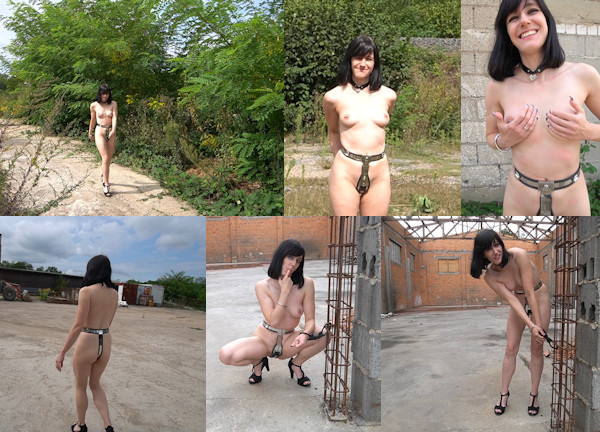 Moni sent me this video of an exciting adventure she had recently. She went exploring with her Master, and she was completely naked! Except for her My-Steel belt of course. Moni is one of the most experienced real life Chastity Babes I know, and she is so used to the belt, it is just amazing to see her walk in this difficult terrain without any problems. In heels even!
She discovered a huge old factory but it looked quite dangerous, with crumbling walls, bits of metal sticking out, and deep holes in the floor. Moni bravely explored the entire site, walking along in her tight My-Steel, even finding the time to do a few naughty things in front of the camera.
After a while, she found a pair of black hinged handcuffs that her Master placed there and she knew they were meant for her. Moni jokingly cuffed herself to some rebar frame, getting really excited by the thought of being stuck in this big factory, naked and belted. It was a good thing she couldn't touch herself! Moni rubbed her belt and her breasts, she just LOVES bondage!
But when she asked to be uncuffed, her Master did not feel like letting her out. In fact, he just walked away, leaving Moni all helpless and naked, cuffed in this abandoned building!