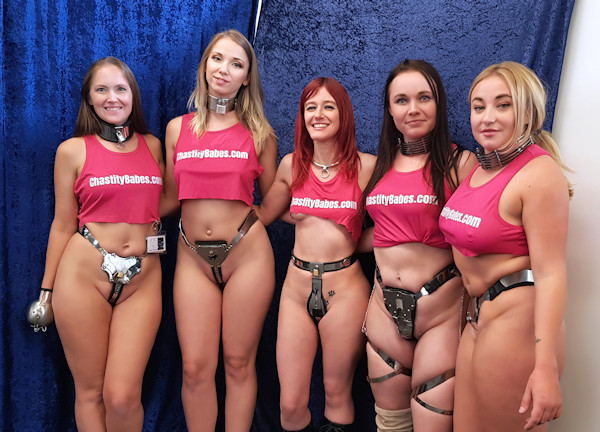 Earlier this month, I was at the BoFeWo (Bondage Fetish World) convention in Germany. A perfect opportunity to showcase the ChastityBabes.com promo team again! It is always lots of fun, and it really draws attention to the much needed cause of getting more girls into chastity.
As always, I didn't really know who and how many Babes there would be on the team. Rachel Adams (USA) was there with her own belt, as well as Roxy from the Netherlands (boundlife.com), and two girls from the UK showed a lot of interest as well: Lil Missy and Zoey Ziptie! And then there was Moni (who has been on this website before), showing up in her own My-Steel to be part of the team. Not bad for a small convention: five Babes! I took all of the girls to the booth of Carrara and he was so kind as to fit all of them with chastity belts, and even some mitts and collars. Except Moni, because I liked her My-Steel too much!
After they all got their ChastityBabes.com crop tops, it was time to walk around the convention, handing out flyers and giving photographers and visitors the opportunity to take some pictures.
The team even went onto the main stage! It was a lot of fun and it made me very proud! What a day!!