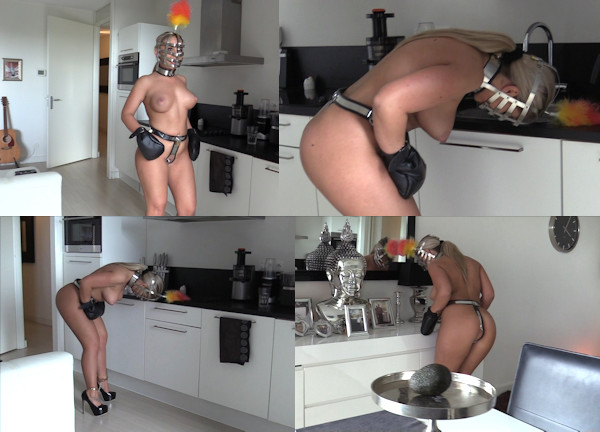 Beautiful Aubrey was doing a Chastity Deal in her own home. She cleaned a little bit, but she was on her phone most of the time, taking selfies. So I decided it was time to turn her into a Chastity Cleaning Maid. No more drinks, food, phone, etc. Just focus on cleaning!
I put leather mittens on her hands and locked them to the sides of her chastity belt. She was still wearing leg irons and high heels. Then I locked her pretty face in a head cage, with a nice colorful feather duster on top. Aubrey couldn't use her hands, so she would have to clean her entire house using her head! It was not hard for her to walk in heels and leg irons, surprisingly. This girl walks in heels all the time, every day! But the cleaning wasn't so simple. She had to bend over to reach the objects she wanted to clean, which is not easy in a belt.
It was hard for her to see what she was doing, and she just couldn't really get used to her hands being locked to her sides. Aubrey did a great job though, she managed to get a lot of dusting done! It's a beautiful sight to see such a stunning girl locked in metal going through her own house, using her head to clean the furniture and the kitchen.
I teased her about the fact she couldn't drink any water, and then I tried to find out how submissive she had become. Simply by telling her to kneel and wait… and not returning for a while. Would she stay and wait on her knees?