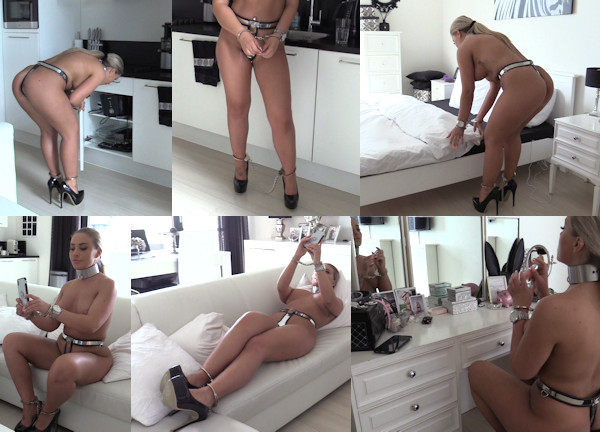 After belting and collaring Aubrey in her own home, we tried the High Heel Enforcers for a while. They need a little work still, so I took them off because I did not want Aubrey to get hurt. I handcuffed her in front, and then I locked leg irons on her, and she just went about her business in her home while I filmed her.
She is such an amazing girl to watch! Perfect figure for chastity, with her incredible butt and perky boobs. Aubrey is very positive too, she would probably never give up during a Chastity Deal, she is just a very happy girl, no matter what Challenges I throw at her.
Aubrey did have some trouble adjusting to her handcuffs and leg irons, she is clearly not used to being at home in cuffs. Opening a cupboard, turning on the tap while holding a glass, making the bed, it is all a bit harder in cuffs. Just watch her shuffle around in her heels doing her daily things, knowing she would be in this metal gear for at least a day. Sure, most girls do it for the money and it is a big motivator, but I felt like Aubrey is really into this. She loves a good challenge, especially if she can look sexy doing it!