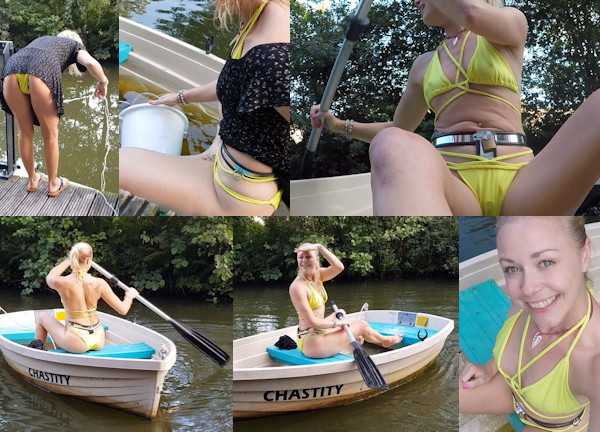 My little boat is called 'Chastity', which should not surprise you. I bought it a while ago, planning to give the Chastity Deal girls something to do during their Chastity Deals, but the weather had been awful and well, then there was this virus you may have heard of.
But now the boat has been taken on it's first voyage by a Chastity Babe! Lucy Lauren, our water (and chastity!) loving girl really wanted to go for a little boating! It's only a small boat but it's lots of fun. There is an electric engine that attaches to the back of the boat, but Lucy decided paddling was going to be more fun.
Before all that though, she had to remove the water from the boat. Rain had collected in the boat, there was a lot of water in it! Lucy Lauren bravely scooped out all the water, which is quite a hard task. Remember, she was still locked in the rigid NeoSteel belt, but that didn't seem to bother her at all. She got all of the water out of the boat and then she could finally take it for a spin!
She had so much fun paddling around in the little boat! It was hard to maneuver because we could only find 1 paddle, but look at her go!! A Chastity Babe in a Chastity Boat! She even filmed a bit again with her action camera, great POV of her belt while she is rowing! Summer time Chastity Deals are the most fun, I have to say. There is so much more you can do! If you are considering signing up for a longer Deal, it might be better to come over in the summer. Although there is a lot to see in Holland all year round and I would gladly show you around.