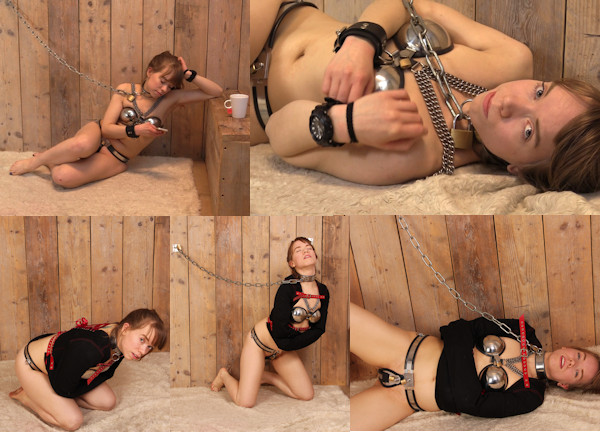 Me and Josie had such a great time during her Chastity Deal! She is perfect! Tiny body, looking good in a hip-style My-Steel and tight chastity bra, and the right attitude to last a long time in chastity!
After her Casting, I had chained her collar to the wall. But I gave her a cup of tea too! It's important to give British people tea, I have learned over the years. Without tea, no British girl will last very long in a Chastity Deal. She also had her phone within reach, so I was being very nice to Josie at that point. She lounged around on the floor, and waited for her next Challenge.
It didn't take very long for me to come back something new: a bolero (open chest) straitjacket! I wanted to do a shoot for GirlAsylum.com, while she was here anyway, and a full straitjacket would hide the bra, we can't have that! After strapping her in, I told her to pose for a photoshoot, and it turns out Josie is quite a good model! She can move around and pose! It was the first time she ever posed in restraints and chastity gear, but she did very well!
This update has a lot of behind-the-scenes footage and of course the end result: the picture set for GirlAsylum.com! Josie was a bit disappointed she could no longer sip tea and play with her phone, but a Chastity Deal can't be all lounging until the time's up. Girls need to be challenged!