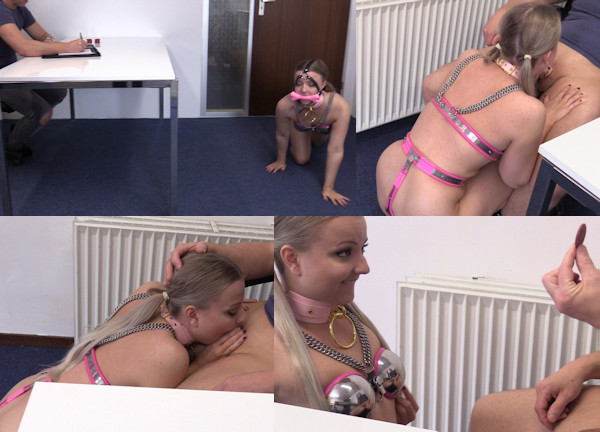 Working from home can have many advantages. For slave L, it is really great that Master M is working from home, now she has more opportunity to earn her 25 poker chips! For those of you that don't remember: Master M and his cute chastity slave L have an exciting Chastity Deal going on. Every time she serves Master M in a way he finds pleasing, she will earn a poker chip. When she has collected 25 chips, she will be allowed to have an orgasm!
No wonder slave L is so eager to please her Master as often as she can. She seductively crawls to his desk as he is trying to do some work. Slave L loves acting like a pet. She is wearing her big O-ring collar and a bone harness gag! Soon, Master M can't take it anymore, and he removes her gag. Slave L wastes no time, she gets to work!
This cute slave is good at what she does! Master M can't help but give her a chip every time she uses her mouth to please him. Being locked in a chastity bra and belt makes her even more horny and dedicated to please her Master. But Master M doesn't always make it very easy. He pushes her head down very far this time. Slave L chokes but she keeps going. She needs that chip!
Enjoy this Master M & slave L update! Let's hope she will get to 25 soon, I think she has earned an orgasm by now!