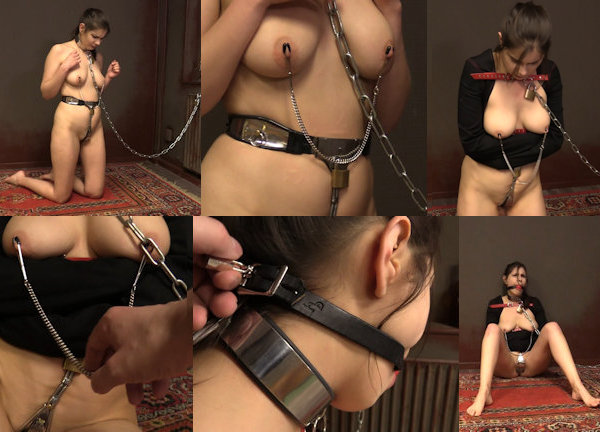 Some members were wondering what happened to French sub girl Ulysse, after she did some difficult Challenges during her recent Chastity Deal. Remember how she was boob cuffed to the wall, and then put in a freezing prison cell. I have no idea why she wanted to do this Chastity Deal, because she always complains about getting too many Challenges.
True, I like to tease her a bit more because of her French accent. It's so funny! And she gets upset so easily, it is very tempting to keep teasing her. So far, I have learned that 'non' means 'no' and 'aïe' means 'ouch'. I think those are the two words Ulysse says most of the time. In the final Challenge of the Deal, I told her she would have to be nipple clamped for 1 hour. She said 'non' and 'aïe' a lot as I kept pulling the chain, she is so cute!
Obviously, I needed to find some way to keep her from removing these clamps, as I wanted to leave her alone with the camera for an hour. The bolero straitjacket was perfect to expose her boobs and the clamps, while making it impossible for her to remove the clamps. She protested of course, shaking her boobs, but the clamps can't come off by shaking them. It only hurts more. I decided to add a locking ballgag too, just to frustrate her a bit more.
One hour is a long time if you hate nipple clamps and you have no way to tell how much time has passed. I love playing with Ulysse, her passive aggressive French anger is very amusing! She made it to the end of her Chastity Deal and got her money, she stormed off saying she would never do it again. Just like Natalia Forrest… who has been back more times than I can count. They always come back! Don't worry!