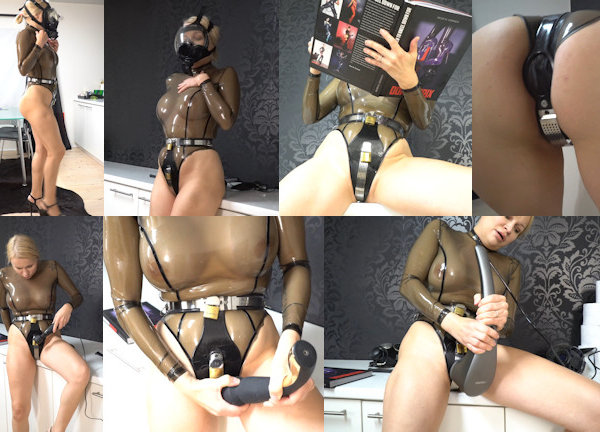 Mary thought she would get a little opportunity to touch herself when she was allowed to take her belt off and put on her latex body suit. But it all happened so fast! Her belt was back on before she knew it, and with the extra layer of latex it was even harder to feel anything.
At first, she seems pretty ok with her situation. She picks up a book with fetish images, which is probably not a smart reading choice when you are locked in a chastity belt. Mary gets really horny (even more than usual) and she starts to rub her belt. Of course, she can't feel anything at all, and she puts the book away because she is getting very frustrated.
But Mary is not giving up that easily! She gets out ALL of her vibrators and she tries all of them to see if there is any sensation. This lockdown situation is bad enough, and it will be way worse if she doesn't figure out a way to climax. Mary knows that her Master will not unlock her belt anytime soon, so she tries a small magic wand on top of the secondary shield. There is absolutely no feeling at all, just a bit of noise.
She grabs a bigger magic wand, and vigorously pushes it down on her belt. Mary quickly realizes that she won't feel this one either, and she is destroying the magic wand head by pushing it down on the perforated shield. Finally, she goes for her ultimate secret weapon: the biggest massage wand you have ever seen! She really goes to town with this huge device, which is capable of delivering the most extreme vibrations. It is actually a back massager that will reach the deepest muscle tissue. Mary has had many orgasms with this apparatus, but the belt and the latex are blocking all sensations.
This is going to be a long day for Mary. Of course, Master will allow her some cleaning breaks and eventually she will be allowed to take off her latex suit again, but she knows the belt will probably be locked on again. Mary's Master just loves to get her frustrated. And this lockdown is the perfect time to do that!