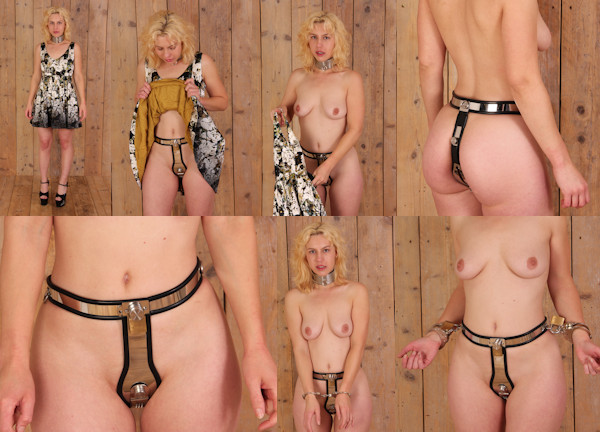 Kama Medea is a young Dutch girl who has been VERY actively pursuing a career in bondage modelling, because she actually loves bondage! She is on Fetlife, Facebook, and she is slowly appearing on lots of bondage sites as a model. Of course, I had to invite her over to try a chastity belt!
In this behind-the-scenes Casting shoot, you can see the very first time Kama was locked in a belt. She is so cute! A little hesitant, she steps onto the wooden background in the studio in her pretty dress and towering heels. She is nervous and a little wobbly. Kama was very excited to be locked in this NeoSteel, it's her fantasy to be locked without having access to the keys.
We had been messaging for quite a while, and when the shoot finally happened, it was so much fun! I just love to shoot with girls who are genuinely excited about chastity! Kama is very actively exploring all kinds of kinks, and chastity is near the top of her list, because giving up control is what she is into.
I ask her to remove her dress, and she does, even though she is shy about it. Standing there, naked in heels, locked in a belt and collar, Kama looks so stunning and vulnerable at the same time! I try to joke around with her a little to make her feel more comfortable, locking a pair of handcuffs on her. She giggles and tries to pose. Then she gets really surprised when I lock her wrists to the sides of her belt with two pairs of cuffs. Kama is taking it all in, wide eyed and excited… she's not a model, she's a real life sub who loves to try new things! Enjoy!