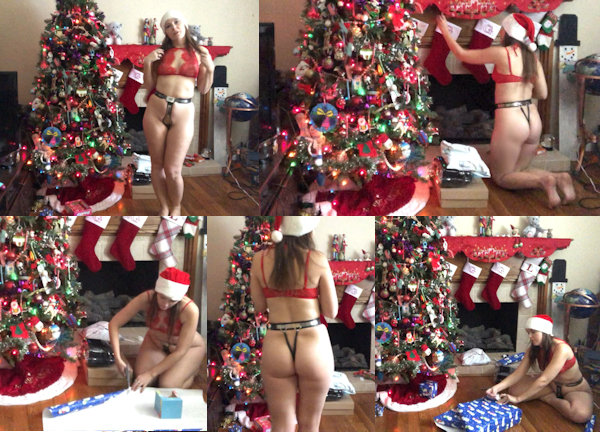 Rachel Adams is still in love with wearing chastity belts, she is even trying different styles now. Her most recent belt is a V-style rear chain belt, with a high security cylinder lock block on the waist belt. I think she likes the V-style more (most girls do), as it doesn't have the rather obtrusive anal opening.
Rachel is not shooting any bondage over the holidays, so she can stay at home and wear her belt as much as possible, only taking it off for cleaning breaks and toilet breaks. I know many of you are celebrating the holidays in a chastity device, so it is nice to see Rachel join in on the fun! She is so used to wearing a belt now, she does not even mention it and she often forgets she is wearing it!
Rachel has a lot of things to do before Christmas, but they can all be done in the belt (anything can be done in a belt). She needs to put candy canes in her tree, fill the stockings, and wrap a lot of presents! This all requires a lot of bending over and moving around, but she doesn't seem to have any problems in this belt!
I hope you are all going to have a lovely Christmas time, hopefully locked in a chastity device (or with your loved one in a chastity device of course)! And if you don't have chastity in your relationship yet, this is the time to get the perfect gift that will strengthen and spice up your relationship! A chastity belt makes a wonderful gift! Happy Holidays from ChastityBabes.com!!