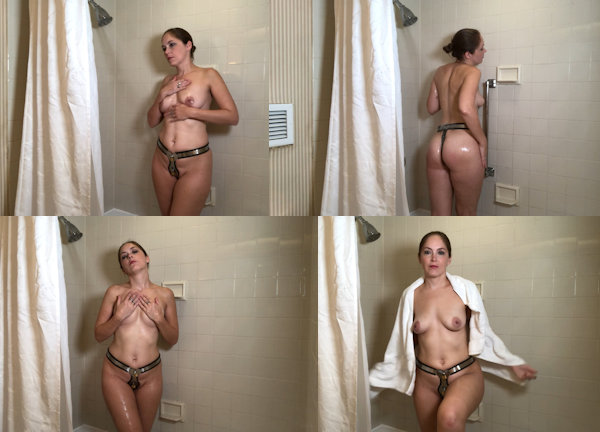 Rachel Adams almost did it, Locktober is almost over! I have a lot of videos of her, but I couldn't post them all on the site. I will post more in the future if people are interested in seeing this beauty dealing with her belt in daily life.
This one I did not want you to miss: Rachel showering in her belt! She is so stunning! I love showering videos and there have been a lot in the past. Did you know you can search the website by clicking on the small magnifying glass at the top? Or by extending the url like this: https://www.chastitybabes.com/?s=shower. You can find all of your favorite updates like this by using your preferred keyword. The website is getting so big, it can sometimes be hard to find things, especially if you haven't followed this project since the beginning.
Rachel is reporting she LOVED Locktober, and she is planning to wear the belt very frequently after this month, to challenge herself. And of course, if she comes to Holland (or to any European convention where I will be), she will have to be locked in the belt again, like all girls who come and visit. It has been a fun Chastity Deal, and I'm interested to hear from her on Friday to see what she thinks about the entire experience after her unbelting!