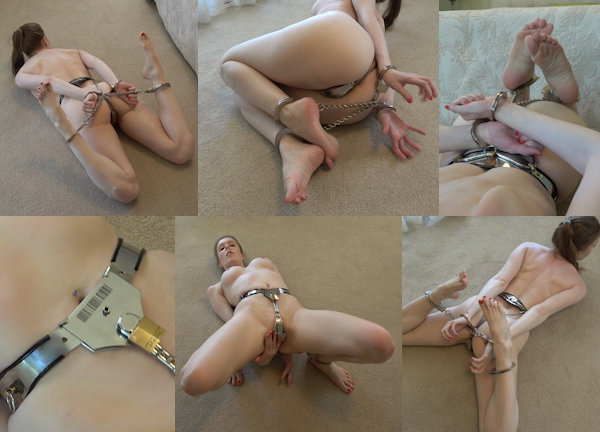 Meanwhile in Australia, Cobie is still belted in her FancySteel! I am not sure if she is doing Locktober, but she loves to wear her belt whenever she can, so I am sure she is challenging herself as much as possible!
Today, she sent me a video featuring the things she loves most: chastity belts and bondage. She was excited by the idea of being hogcuffed without access to the keys. Cobie was interested in finding out if this was possible in her chastity belt, and how frustrating it would be after a while.
This video of a nude Cobie struggling in ankle cuffs and handcuffs is pretty exciting indeed! She tries to find a comfortable position but it is very hard for her, especially after a while. She briefly manages to get on her knees, but it is even more uncomfortable, so she reluctantly goes back to lying on her stomach (and on the belt's frond padlock).
It's always so good to hear from Cobie again! She is a true bondage babe, and she loves making things hard for herself, her life is all about challenges! She is always looking for the tightest, heaviest, most difficult bondage positions, and Cobie loves gags, chastity belts, and cuffs! She is just awesome!
Cobie sends her greetings from Australia and hopes you will enjoy her struggles today!