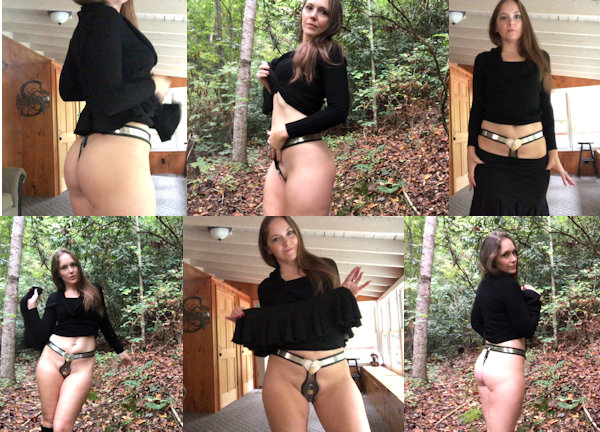 Back in the USA, Rachel Adams is faithfully reporting back to me about her Locktober Chastity Deal. She is now 10 days into the challenge, and she says it has been an adjustment. Doing everything in her chastity belt made her realize how easy life is without a belt.
Driving long distances (which is very common in the USA) is pretty hard in a belt. Car seats and belts do not really get along, as we have found out many times. But Rachel loves her belt a lot, and she is now completely used to wearing it. She is not one to give up (ever), as you may know. She is one of the toughest girls in the fetish industry and I think she can make it through this Chastity Deal.
She seems to be doing fine in the videos she sent me, her soft voice calmly explaining how she is doing. Rachel is visiting some stunning locations this month, and she sent a few videos indoors and outdoors, talking about her belt and just enjoying the scenery. It's great to see my latest Chastity Babe doing so well! Much to my surprise, she is already thinking about wearing the belt regularly after October! That is great news!
There is still two thirds of the month to go though, we will see if Rachel keeps her positive attitude! Stay tuned for more Locktober reports! Meanwhile, please comment below on how YOUR Locktober is going, I know many of you are sharing this adventure with Rachel, so let others know your situation and feelings during this challenge!