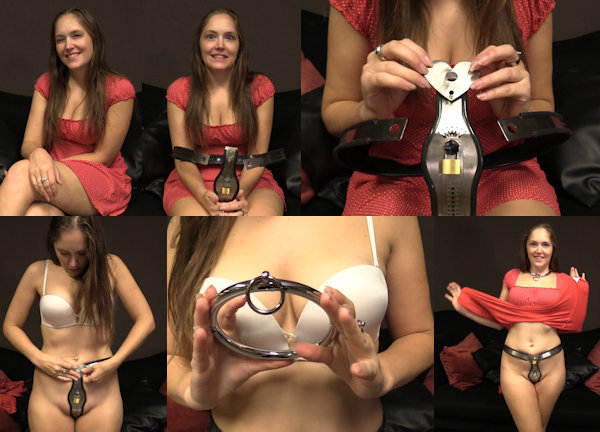 Today is October 1st! Many people around the world will be participating in Locktober, a month in chastity, which is good for focus, body, and mind! I know a lot of you (visitors and members) are also doing this, so this year I wanted to find a Chastity Babe who could share you challenge and spend a month in chastity!
Rachel Adams was so excited about being locked in a chastity belt in Spain, she bought her own belt as soon as she returned to the USA (unbelievable but it is a true story). She wants to challenge herself so I offered her a Chastity Deal. Locktober is 31 days, so that's a long Deal, but she seemed very confident and excited about the opportunity.
She was in Europe for a German fetish convention (where she was in the ChastityBabes.com promo team with Kerry), and yesterday, back in Holland, we started the Deal. Rachel was locked into her belt and we did an interview. Of course, yesterday was September 30th, but I needed to belt her already so she could spend some days in Holland in her belt, to get used to it. She will get out Oct 30 so she can celebrate Halloween, which is still 31 days.
Of course, you know Rachel Adams is a professional bondage model. And she lives in the USA. So she will have her own key to take off the belt for shoots. We made a deal she would try and wear it as much as she can, every night and most of the days, only taking it off for shoots, cleaning breaks, and perhaps toilet visits. She is very submissive and she will not cheat, I trust her. Besides, I require her to post a lot of pictures and videos on her Twitter, and she will have to send me many updates on her progress.
I am very excited to have such a famous bondage star in the first ChastityBabes.com Locktober Deal! Let's see how she will cope with this Challenge!