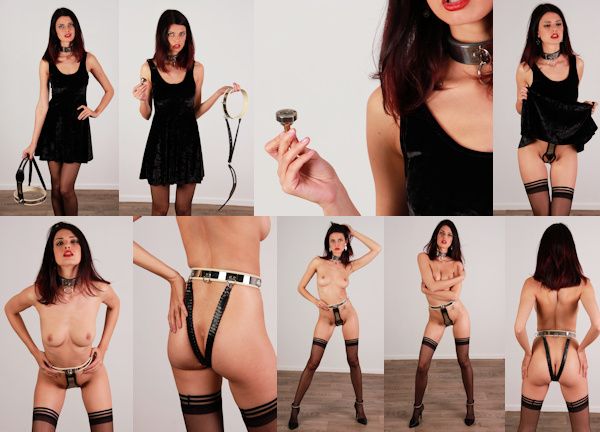 Remember the very rare Tollyboy belt I got my hands on? It is very old, must be close to 30 years old now. This is the original FB100 belt designed by Hal Higginbottom, which inspired the shape of modern belts. Like Tollyboy always said in their marketing: 'much copied, never equalled'.
This particular belt is even more rare as it is very small. There are only a few Chastity Babes who would fit in it. It doesn't have a secondary shield (the FB100 simply did not have one) and it has a chain style back, in this case the chains are covered for comfort. It has a radial style lock to prevent lock picking attempts. The lovely and elegant Yasmine will demonstrate how to lock it on and how it fits her.
Of course, it was not made for Yasmine (she wasn't even born yet when the belt was manufactured), and it has no secondary shield, so the fit will not be 100% perfect and secure. Premium chastity belts need to be custom built and are only built for one person. But it is a very good fit and Yasmine looks stunning in it of course! Her soft Scottish accent explaining the features of the belt could almost make this a commercial for female chastity!
Enjoy this fun update today and have a great day!