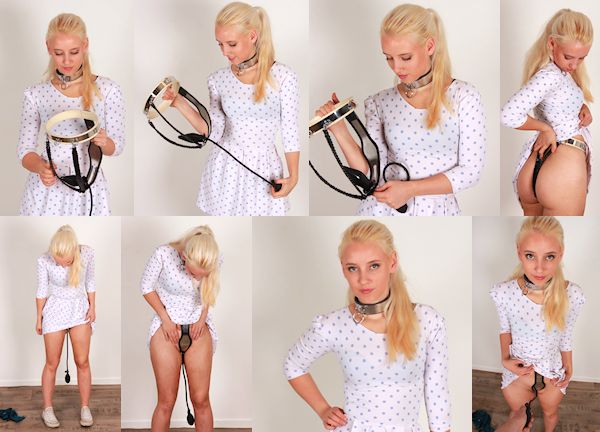 Ok, I have to admit that Vina wasn't in her little plugged My-Steel for 7 days in a row. There were a few short breaks, because I wanted to experiment with other belts and toys. So the My-Steel was taken off, a quick shoot was done (never unsupervised), and the My-Steel was locked back on for the day.
Why? Well, for example: I had received a very very rare belt, loaned to me by a photographer from the UK. It was a Tollyboy belt, one of the early versions, that is probably over 25 years old. It's definitely older than Vina! Chastity fans amongst you might realise how rare this belt is, it does not even feature a secondary shield. There is just a vaginal slot, which isn't very effective. But it is very convenient if you want to play around with an inflatable plug! I needed to shoot with this belt fast (because it was loaned), and I had a good feeling that it would fit Vina nicely!
I presented this belt with the plug to Vina, and she was very intrigued. She did not realise how rare the belt was, but she sure was curious about the inflatable plug! Honestly, the plug was quite big for little Vina, but she managed to get it inside! The Tollyboy was then locked onto her using the radial lock, and she looked lovely in her dress with the plug's pump dangling down!
Vina played with the plug for a while, although she didn't know how to release the air, thus inflating it further and further and further. It must have been so huge and full inside her! Again, watch for the little smiles, she loves these kinds of surprises, she is such a curious eager young girl!