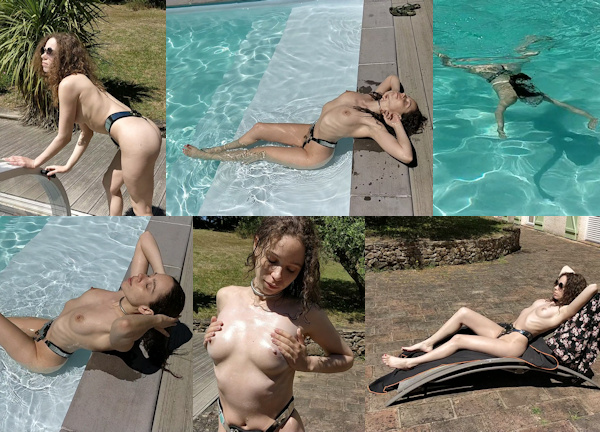 Meanwhile, Lizanne (the real life chastity babe from Belgium) is on holiday with her Master, and they sent a video to be published on this website! Still locked in her OWN Carrara belt, Lizanne seems to be enjoying the sun, looking as stunning as ever!
Yes, Lizanne is one of the Chastity Babes who has her own belt (like Pling, Cobie, and quite a few others) and she is locked in it for the most part of her daily life. Her Master only lets her out for supervised toilet and cleaning breaks and on special occassions but she will have to earn it. They are in a very strict D/s relationship. They are from Belgium, which makes their choice for a Carrara belt very obvious of course, they live very close to the Carrara maker, and they can go there any time when they need advice or adjustments.
Lizanne is completely used to her Carrara, which was custom built for her. She can do literally anything in her belt, except touch herself or have sex. Which is good of course. Swimming is perfectly possible in a chastity belt, as we have demonstrated on this website a few times before. There is absolutely no need to take off a chastity belt for a holiday. Yes, you will get stange tan lines, but if you never take off your belt, no one will see that! Carrara belts can get wet, even the lock, they were made for 24/7 wear, even showering and swimming is fine in them.
What a beautiful view to see Lizanne go for a swim in her belt! Her perfect body is gleaming with sun screen lotion in the sun, and she seems to have a great time, relaxing on her well deserved holiday! Let's hope they will send us a few more videos, we can never have enough Lizanne!