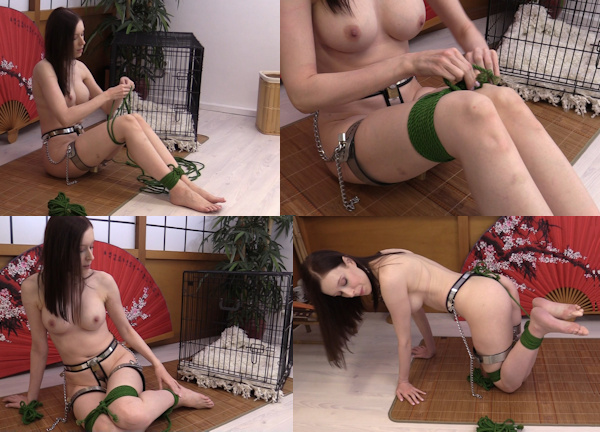 Cobie is a professional bondage model, she loves rope as much as wearing a chastity belt! Of course, that doesn't always go together, and there have been a few shoots and performances where Cobie couldn't wear her belt, but whenever possible, Cobie will stay belted during her rope shoots!
As you can see from the bruises and rope marks on her arms and legs, Cobie had already been doing a lot of shooting during the week she was staying in Holland for her Chastity Deal. She didn't mind at all, her marks heal quickly and it is part of her job as a bondage model. Even when she was not shooting, Cobie could often be found playing with ropes in my studio. I found her in the oriental themed room, surrounded by some green hemp rope.
Cobie was tying up her own legs, just practicing happily, waiting for the next photographer to show up. She is very good at this! In no time at all, she had completely restrained her legs and tied them to the back of her chastity belt! It wasn't easy for her to move around, because I added thigh bands to her Chastity Deal, but Cobie seemed to be doing fine, still locked in her rigid style NeoSteel.
It's so much fun to have Cobie around for a Chastity Deal, she truly loves wearing a belt and she is one of the few girls that genuinely want to be belted as often as possible! As you can see in the BoundCon updates, she now has received her OWN Carrara belt, and I expect to receive some updates on that from Australia later this year!