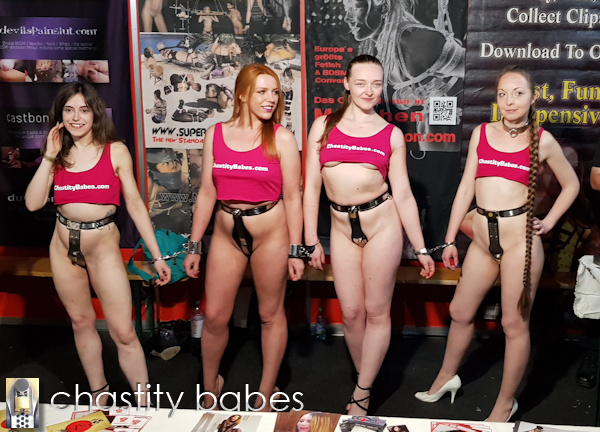 BoundCon update! I managed to have 2 promo teams this year at BoundCon 2019! In the International booth, the promo girls could pose and give all the fans the opportunity to take pictures!
And it was very international: I started with a brand new Chastity Babe: the lovely St4rdust from the UK! This redhead was getting a lot of attention in her Access Denied belt, while the other girls were still on their way to the booth. Soon, St4rdust was joined by LittleRedgirl (also from the UK) in her own belt! She is always lovely to have around! The two of them posed for a while, and they were even handcuffed together!
The crowd did not expect more Chastity Babes to show up, but suddenly Kerry (Scotland) and Pling (Sweden) arrived, locked in their belts and ready to pose for the hundreds of cameras. Now there were 4! It was a great view, four girls locked in chastity, promoting this website at the biggest European fetish convention! We had a great time! Kerry even refused to take off her belt after the photo opportunity ended, and she was still wearing it under her dress when she went outside to smoke. She was locked in that NeoSteel for a long time!
There are of course more pictures and videos of this team. After all, there were a lot of fans taking pics and recording the event. I will probably receive more soon. If you took any pictures of the promo girls, please send them in and I will publish them so everyone can enjoy more hot girls in chastity belts!