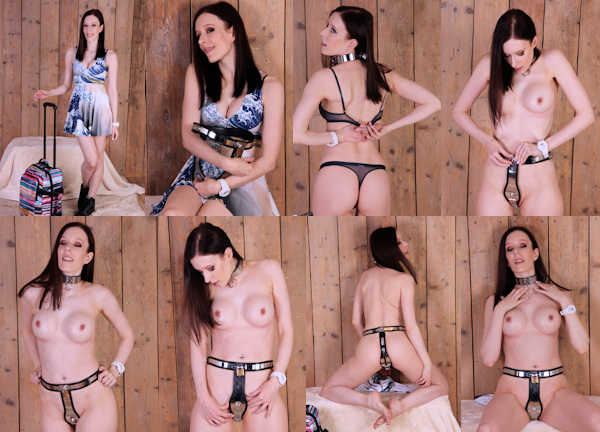 Cobie arrived! All the way from Australia! Of course, when it is BoundCon-season, international models start to arrive in Europe left and right, and that's always a great opportunity to get some girls belted that I couldn't otherwise get over here (thanks BoundCon!).
After her long flight, all Cobie wanted to do was go to sleep, but I dragged her to the studio to get locked in a chastity belt. I know, it is a bit cruel, but I just don't want to waste any time! An unbelted Cobie is something I couldn't really allow, and Cobie loves being in a chastity belt so much, she didn't mind the short detour.
Cobie did not bring her own FancySteel belt this time, because she knew there would be plenty of belts in my studio. This rigid style NeoSteel is her favorite, and it still fits her perfectly like every other year she has been here! I quickly collared and belted her, and Cobie was so happy to be back in metal, even though she was super tired. Because the Deal is quite short for Cobie (10 days), I am not going to make it too easy on her this time, there will be some Challenges and all of her other shoots will be belted, even if they are not for ChastityBabes.com! It will be a full Chastity Deal with lots of fun! Well, except for one specific kind of fun, and that will get really frustrating in a few days! I am looking forward to that moment!