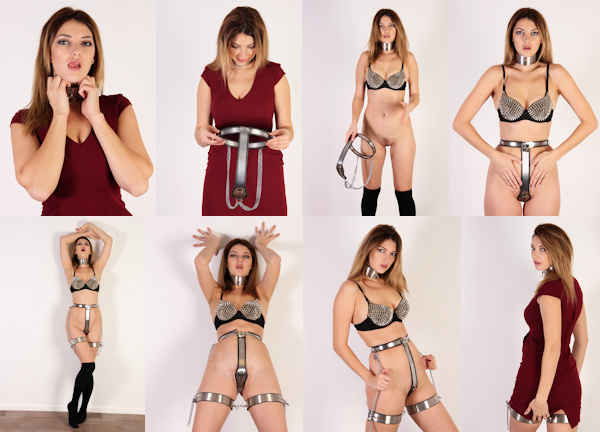 Mistress Kristin from Russia is a tall confident woman. I wanted to try to belt a dominant girl for a change, and it turned out it is not so easy.
While Mistress Kristin was kind of interested in the money, she did not really want to do anything submissive. As you can imagine, wearing a collar was not something she was happy about. But here at ChastityBabes.com, a collar is pretty much standard. So I grabbed one of the widest steel collars and locked it onto Kristin's neck. She kept pulling at it, and giving me the finger at the same time. You can see where this is going.
Kristin was wearing an awesome spikey bra under her red dress, so that was already perfect. Locking her in a tight chastity belt was not very easy, she complained about it a lot. Somehow, it made me want to add thigh bands as well, even though that was not planned for this Casting shoot. I think dominant women make me want to belt them even more. Kristin was tugging at her chastity gear all the time. She must have asked me 10 times if I was sure I had the keys. She loves to be in control.
When she found out she had to spend a few hours in this gear, she tried to calm down and wait until I would release her. But she couldn't really sit on a chair, and she was getting bored and annoyed. Still, she was taking a lot of selfies for Instagram. I will never understand girls! But I do know that belting dominant women is now a new target for me! I loved it!