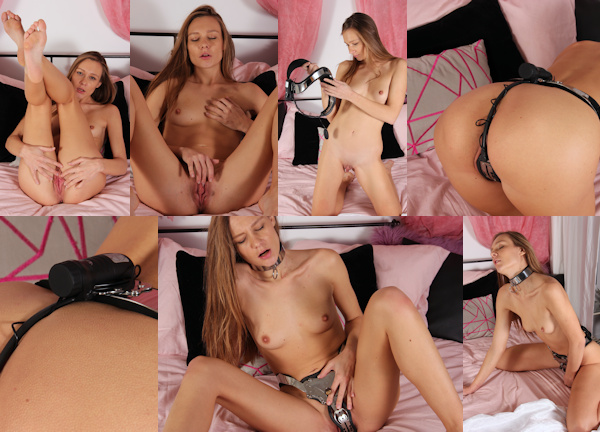 Another new girl this week! Mira is a very horny young beautiful girl with big labia, and she was already wet when she arrived! She literally can not stop touching herself. Time to teach her a nice lesson today!
Naked on the bed, Mira is allowed to touch herself as much as she wants to. She enjoys using her fingers, and she is not ashamed to show off her perfect body. When she gets warmed up, I present her with a Carrara belt with a vibrating egg inside it. Mira is curious enough to get locked up in the belt (and collared of course!), and she wonders what is going to happen next. I show her how it works: the egg is not inside her, the Carrara belt pushes the egg against her clit. The control unit on the back has 4 levels, even though level 1 is already very strong.
I help Mira to find the button on the back of her belt, and she moans with pleasure. She is certainly feeling that! Slowly, we are taking it up to level 4. The egg vibrates loudly inside the belt and Mira is going crazy, she is so close to reaching an orgasm!
And then… I unscrew the control unit and take out the batteries. Leaving Mira on the edge of an orgasm, locked in a Carrara belt. She can't touch herself anymore, and the vibrating has stopped. She goes really silent as her panicking fingers try to press the buttons on the control unit taped to the back of her belt. Nothing. Mira has been double edged! First, almost climaxing with her fingers, then almost reaching an orgasm from the vibrating egg. And now… pure frustration! Don't miss this update!