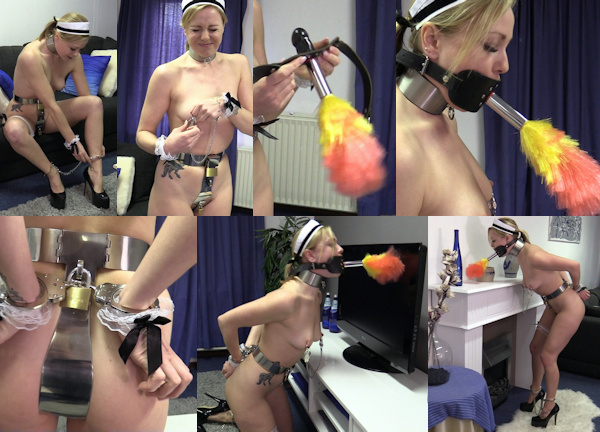 The first task for Lucy Lauren was some cleaning in the living room. But just locking her in a super heavy (and tight) steel belt was not enough of course. I wanted to make her life a little harder.
So I told her to wear very tall high heels and lock herself in ankle cuffs. Any slave girl knows it's not easy to walk in high heels and leg irons. And Lucy was already getting a bit worried. She had already seen the pair of nipple clamps that were on the table, and these very pinchy clover clamps are her worst enemy. They hurt! Lucy clampled herself and tried to put on a brave face. Her expression said it all: those clamps are evil!
But the best part was still to come: a very special gag was on the table, and Lucy would have to use it to clean the entire living room. The gag was a fairly large penis gag with a duster attachment. Very humiliating and a good constant reminder of her role as a slave maid. Lucy strapped the penis gag deep into her mouth and I then locked her handcuffs to the back of her chastity belt.
All this gear made it very hard and awkward for Lucy to dust the living room. She could barely walk (unstable in her heels and leg irons), she couldn't use her hands at all, her nipples hurt with the swaying of the nipple clamps chain, and she had to use her mouth to clean every single object in the room. This was a nice first Challenge for poor Lucy Lauren. She was exhausted, drooling, and actually quite aroused after this task!