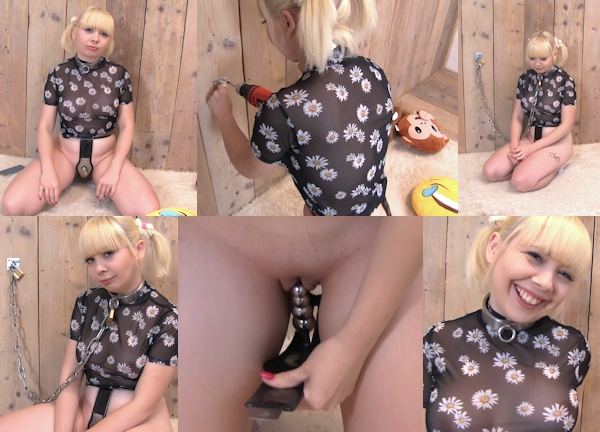 Cherry English is so cute! She has a voice that matches her height :) She used that voice to keep asking 'are you going to let me out now?' in her posh British accent. Every time she asked me that I wanted to keep her in the double plugged belt longer. Maybe it is the curse of cuteness. People just want to keep you around.
It had been a few hours and Cherry was still getting used to the plugs. It was a new feeling for her, being stuffed with two rather big plugs. She felt very full, she said. I think she couldn't wait to get the belt off, to play with herself. I could see it was making her very excited, especially when she moved around a little. But to keep her occupied a bit longer in this Casting, I did not let her out (yet), I gave her a task.
The task was to screw a D-ring into the wall behind her using a drill. Cherry wondered what it was for, while she managed to firmly mount the anchor point to the wall. When I brought out a chain and two padlocks, she knew she wasn't going anywhere soon. Chained to the wall by her sm-factory collar, Cherry could only wait until I decided the Casting was over. She is such a cute pet slave!
Finally, I decided to let her unlock the chain, and then the belt. The vaginal plug came out very wet! Cherry was clearly very aroused by the whole experience, and she couldn't wait to touch herself. Surprisingly, when I gave her permission to take out the jewel buttplug too, she decided to keep it in for a little while longer. She seemed very happy as she ran off to use the toilet. What a girl, we will probably see her back soon!