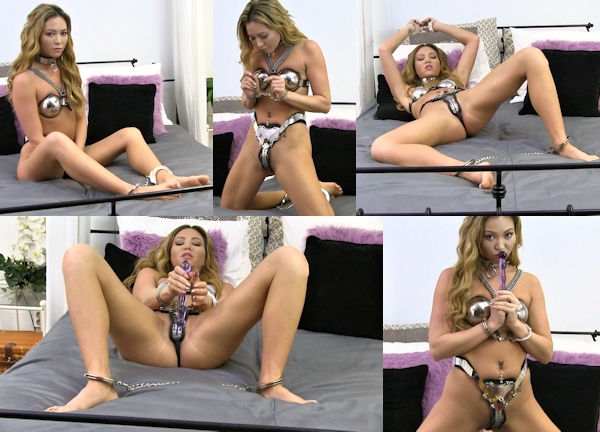 Natalia Forrest scares me. She can be very threatening when I lock her in chastity gear. This girl needs to play with herself (and her toys) very often, and chastity gear is really getting in the way of her pleasure moments. She HATES that.
The problem is that she will let me lock her up, but she wants out after about 15 minutes. She gets so verbal and upset that I am afraid to even go near her, so I usually leave her for a while. Which only upsets her more. In this case, she locked herself in the Carrara belt because she loved the design, and a chastity bra too because it went with the outfit. I managed to even lock some ankle cuffs and handcuffs on her. Of course, she already started complaining at that point.
When I went upstairs, I saw what the problem was: Natalia had literally just gotten a new glass dildo from a photographer as a gift. And she wanted to try it. NOW. She tried begging, threatening, raising her voice, but I did not want to go near her.
At some point, I just threw her the keys to the handcuffs and leg irons. Which was even making her more upset, because she was now able to unlock her restraints, but the chastity belt and bra have different keys, so she still couldn't play with her new toy. Needless to say, I needed to flee downstairs again. Doesn't she understand that all her aggressive complaining gets her locked up longer? We have been doing this for years now and she still doesn't seem to get it.