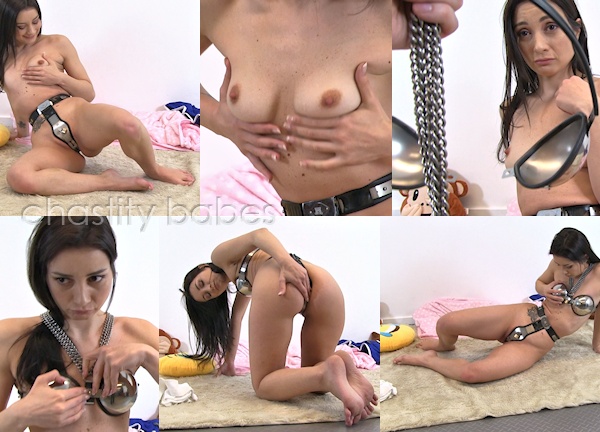 You asked me to be more strict with the girls. And you are right, chastity is chastity! Locking Valentina Bianco in a super tight double plugged belt had a well-known effect on her. It happens to most girls in chastity. Her voice changed as she tried to come across more innocent to make me feel sorry for her. Her begging and pleading didn't help her, I just loved seeing her in that tight belt with a big 4-ball plug in the back and an even bigger 5-ball plug in the front.
It's amazing Valentina could still move, it really was that tight (and with 2 plugs in a tight belt, sometimes girls can't move at all!). She tried for a while to rub her pussy but there was no sensation anymore. She could move the plugs a little by touching their base, but that didn't do much either. Fortunately for Valentina, she can climax by playing with her nipples!
I realized that almost too late, so I had to run off, find the smallest chastity bra, and run back to make her lock it on. Just in time! Valentina was now even more pleading and innocent, but I made her lock herself in the bra. She knew her last chance was gone now. There would be no way to climax now, unless she would get her hands on the keys. The worst thing for her was that she had aroused herself by rubbing her clit just before getting belted AND she played with her nipples just before getting locked in a chastity bra.
She would have done anything to get out of this chastity gear, her entire demeanor was now totally submissive, begging, pouting, wide eyes constantly following me and the keys in my back pocket. Poor Valentina! She may just be the horniest girl I have ever locked in full chastity!