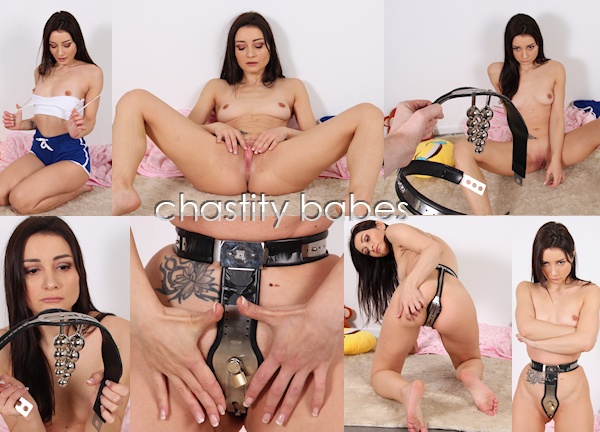 Tiny naughty starlet Valentina Bianco! She is so cute, but you really have to keep an eye on her ALL the time or she will start playing with herself. I followed her on Twitter for a while and decided it was enough. She definitely needs a chastity belt!
In my studio, Valentina was quick to get comfortable and before I knew it, she had taken off all of her clothes and was playing with herself. Rubbing her clit is her favorite thing to do, and she is addicted to it. My Spanish is not very good, but we did not need many words: I just rushed in with a double plugged belt and held it up. This tiny girl is incredibly submissive (but a bit of a brat), so she understood I wanted her to put this belt on.
FIVE ball plug in the front, FOUR ball plug in the back, you'd think such a small girl would have lots of trouble getting all of that inside her. Not Valentina. She slid both plugs right in. What she did not know however, is that I made the belt much tigher than her original measurements, both in the waist and in the crotch. It is the tightest double plug belt you will have ever seen! Those plugs are really in there deep, and there is absolutely way she can still touch her clit!
Disappointed, Valentina tried to touch herself, but there was no sensation anymore. Now there was a new problem: she was already turned on from the earlier rubbing, and the two plugs made her even more aroused as she moved and turned trying to find a way to get her fingers in. I knew what would happen: Valentina can climax from rubbing her nipples. So I rushed to get a tiny chastity bra while she was still figuring out how to deal with this extremely tight double plugged belt!