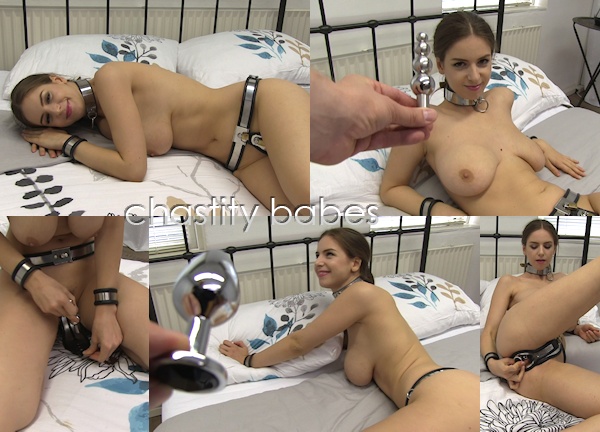 Ok, those boob bands were an awesome idea and they looked so great, but they weren't very practical in a Chastity Deal. Stella really had a lot of trouble sleeping in them, their lack of padding made them dig in too much.
So we continued without the boob bands. Still in her My-Steel hip style chastity belt, wrist cuffs, and collar, Stella was of course very tired. She did not sleep very well, so she wanted to take a mid-day nap. As a good sub, she even asked me for permission to get a little rest on the bed. That's nice, but you don't have to be a sub to do a Chastity Deal. Stella obviously is submissive in real life, and wearing a collar means she will always obey the person who collared her. I'm not complaining :)
I wasn't just going to let her take a nap though. I got out the My-Steel vaginal plug and told her to insert it into her belt. Stella immediately reminded me that I allowed her a few minutes of fun when her belt was opened during her last Deal. But that wasn't going to happen again. I know she can cum very fast so I told her to lock the belt again as soon as the plug was in. When I asked her if she needed any lube, she just smiled…
Stella wanted to go to sleep, but I had one more surprise for her: a big jewel buttplug! I also made her put that one in place, before allowing her to take a nap. It was big and Stella wasn't prepared, so it took her a lot of effort to get it in. Once both plugs were in place, I locked her wrists to the sides of her belt, before I allowed her to go to sleep. I know Stella, she would be so frustrated with those two plugs she still wouldn't be able to get some rest. But it's all part of her Deal! She loves it!