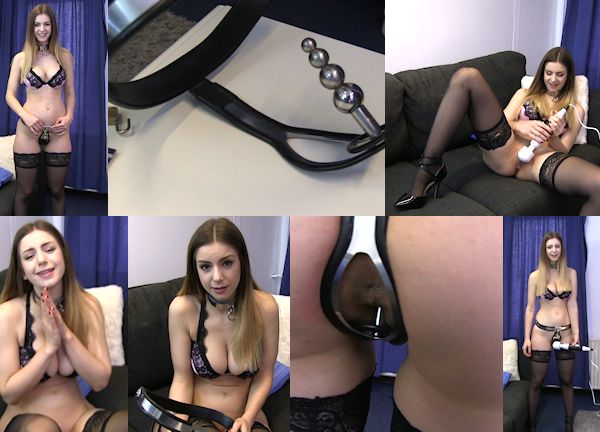 Stella had only been plugged and belted for about 4 hours and she was already so horny she was about to explode. She had seen a magic wand downstairs in the studio, so she just grabbed it, waiting for me to come back.
The second I walked in the door, she asked me: 'can I use this?', pointing to the magic wand she found. I told her that wasn't possible, since she was locked in a chastity belt, and I wouldn't let her out. But she is so cute… and she kept begging me, because she was so incredibly horny from walking around with the steel plug inside her.
We reached an agreement: I would let her out for THREE minutes. She would be allowed to play with the magic wand, but exactly after 3 minutes she would be locked back into the belt (including the plug of course), whether she had reached an orgasm or not. Stella agreed very eagerly, she would just do anything to get some stimulation at this point.
I gave her the keys and she unlocked her belt as fast as she could, wasting no time to push the very powerful magic wand firmly against her pussy. I may have been a little mean, because I kept talking to her, distracting her, and Stella had some trouble focusing on getting to her climax. She was getting closer and closer, and the sofa was getting wet, but just before she could reach an orgasm, I pulled the magic wand's plug. Three minutes were over. Stella begged me and begged me for a little extra time, but I just handed her the belt and made her lock herself up again.
This was not Stella's greatest idea ever. As the plug slid right back in, she realized she was now at least 10 times as horny as before, and the belt was probably not coming of any time soon. She tried vibrating the outside of the belt, but she couldn't feel anything. If you have ever wanted to see maximum frustration, don't miss this update!!