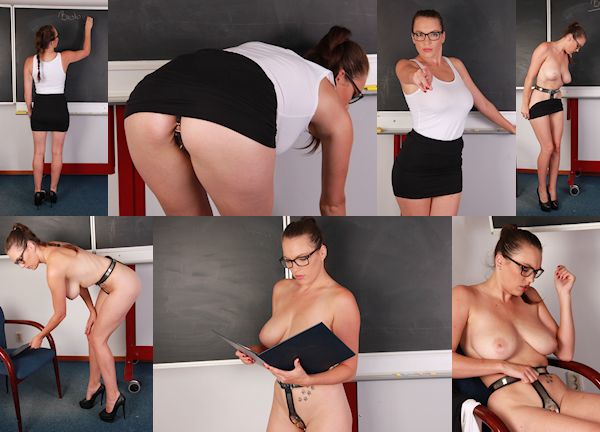 Remember Sam Lee? She was the mistress of Izzy Delphine, but she was never belted herself! As requested by you, Sam Lee and Izzy Delphine did a little experiment where one girl was belted and the other wasn't, to create extra tension. Sam Lee even seduced Izzy with her large boobs, so she would get turned on and more frustrated.
But in my mind, it was always a shame Sam wasn't belted. Her incredible body deserves a chastity belt! So today I can finally present to you: Sam Lee in a chastity belt! In this fantasy update, Sam Lee is a biology teacher who has been locked in a belt by her husband. She tries to focus on her teaching, but the belt is really tight and she is getting to horny to even focus on her job. When no one is in her classroom anymore, she takes off her clothes and tries to find out a way to open her belt. Unfortunately, it's impossible to open without a key. Sam finds it very hard to sit down or even move around in the belt, she clearly has to get used to it.
This is a sight to behold (and it may even be a fantasy of yours if you are still in college): the hottest teacher you can imagine, locked in a tight belt. You can see her belt when she bends over to pick up her chalk, and her boobs are so big they almost fall out of her shirt. Sam Lee is the perfect fantasy! Imagine holding the keys to this belt, she would do anything you say to get out! I hope to get Sam back for a real Chastity Deal soon, although I think she will have a very hard time. She doesn't move around as easily as most girls, but maybe she just needs more time in a belt.