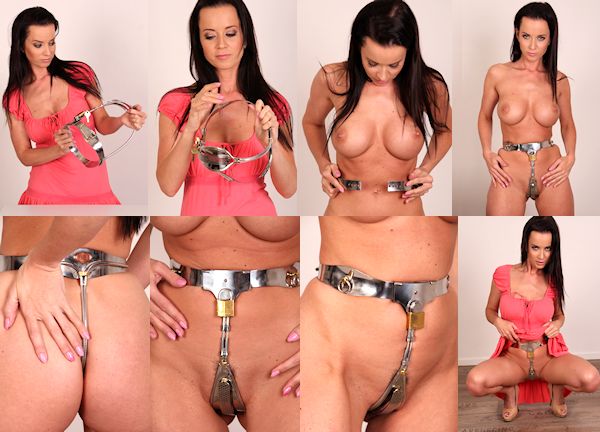 If you are a real chastity belt enthusiast (which you probably are if you are reading this), you will not have missed the launch of a new brand of quality chastity belts from Australia! After a long period of prototyping and building, FancySteel is now ready to accept orders from everyone around the world!
This style of chastity belt is innovative and creative, as well as very elegant! Their belts feature a unique steel cable design, making them highly adjustable. Everything adjust from the inside, so once the belt is locked on, there is no way to take it off, unless you have the key. The locking system is very simple, as Cindy Dollar demonstrates today, she didn't need any help and the figured it out all on her own! The main feature of the belt is of course its sleek, curved, elegant waist belt design.
All of the elements on the belt can slide on the covered steel cables, making them adjustable in the back and front. They are locked into place by hex screws on the inside. The waist band is slightly adjustable to allow for weight gain and loss (during a girl's period or in general). The demonstration version I received has the mesh front shield, but other options are available too. I did not use the rear opening plate, as this is just a Casting, but I have it and I will use it if this belt is going to be used for a long term Chastity Deal.
What is my opinion after this first try out? Well, the girls seem to love its looks (it is truly Fancy), and the adjustability and ease of use is a big plus! I will have to test the security in a longer Deal, and I will need to add the pvc lining option if anyone is going to wear this for more than just a few hours.
And let's not forget about our lovely new model today! Cindy Dollar is gorgeous and very easy to work with, she was very happy to demonstrate this new belt to you, and I have a feeling she would be incredibly suitable for a long term Chastity Deal, as she is a very sexual person. I don't think she can go a day without pleasing herself, which is exactly what I am looking for in a Chastity Deal candidate!