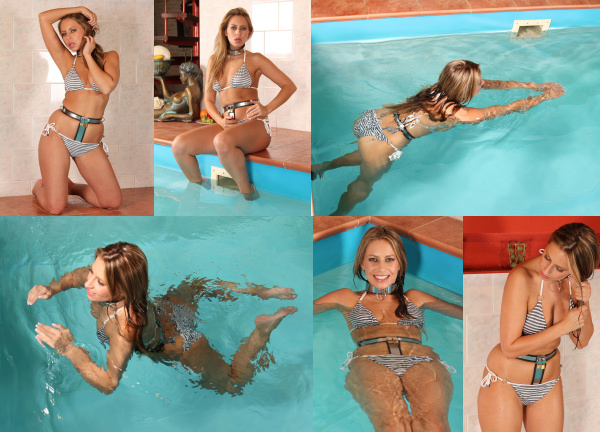 Another member request this week! One particular request has been to show a model in a bikini under her belt. This request was made even before this website started, we are sorry for the long wait, but now it is finally time to show: Vanessa belted and collared, going for a swim!
In the coming months, we will test lots of daily women's activities, like exercising, shopping, shopping, going out, maybe even horse riding, to see if wearing a chastity belt will in any way limit a girl's options to fully enjoy life. Swimming should be perfectly possible in a chastity belt, but you never know until you try. All our belts are stainless steel, so we are not afraid of any rust occurring, although the locks could be affected, we will report on that later.
For now, Vanessa just enjoys her quiet swim, and as you can see she is not hindered by her belt in any way. Her radiant smile even makes you forget she is wearing the belt, a perfectly happy ChastityBabes who is progressing nicely in getting used to being belted!