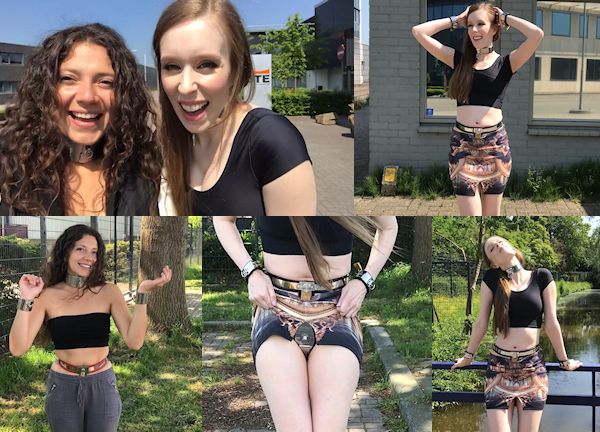 The weather has been amazing during Cobie's Chastity Deal so far. A real rarity for the Netherlands to have such good weather at the end of May, beginning of June. Perfect for girls from Australia and Mexico who are used to a hot climate, but not so much for me, a pale Dutch guy.
So whenever Cobie wanted to go outside, I sent Anahi with her. These two have become super close friends anyway, and they seem to enjoy their time together, both locked in super tight belts. Both girls are also locked in collars and cuffs, and going outside in this hot weather, they can't cover themselves up. Fortunately, they don't seem to mind. Cobie even said that chastity belts in public should become normal, and she will be the first to start this new trend! Anahi on the other hand, is so used to her red My-Steel, she doesn't even realize she is wearing it most of the time. She would actually just walk into a bar or shop like this, even with her huge collar on!
Enjoy this video of the girls exploring the area! I was not there, they filmed everything themselves, as they freely talk about the climate, their belts, and Cobie's daunting Chastity Deal. I just love it when girls feel so good in their belts! No problems or drama, just a happy sunny day in Holland!