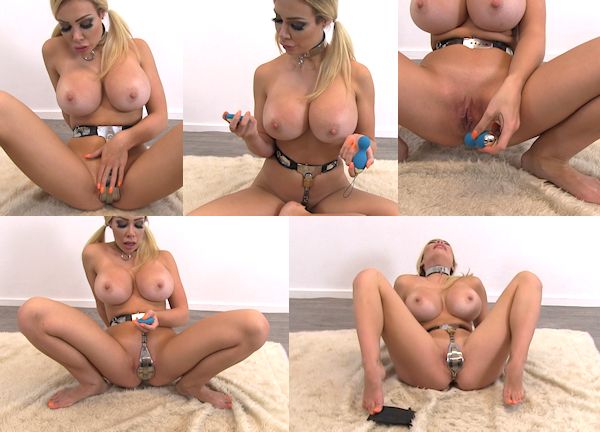 Perfect chastity doll Chessie Kay was quite upset to find out she couldn't touch herself! She lives for sex and her days are filled with fucking and sucking. If she isn't having sex, she is touching herself or she uses one of her many toys to have some fun. Imagine her confusion when she felt nothing at all, touching and rubbing the FancySteel front shield!
But I wasn't going to be all cruel in training my chastity doll: I brought her a remote vibe! Now, if you remember the use of this particular toy before, you will smile at the fact that no one has any idea how to use it. The controller has a motion sensor, so even waving it around or tilting it causes some change in speed and setting. Unfortunately, I lost the manual and there is no way to tell what it is doing exactly.
Chessie was happy to get the key to her belt for a moment, if only to insert the nice blue toy into her pussy. She was locked again immediately after, and the toy was already on. Chessie thought it was really nice at first. The toy was at a nice setting and she started to get really aroused. But when she wanted to lie down, she was holding to controller, so it changed the vibration settings. It was fun to see Chessie trying to work out how to get the nice settings back again. This toy is confusing!
I just left her there for a while, and she was getting more and more aroused and frustrated. It would soon be time for the rest of her training, a chastity doll needs to be able to obey commands and do tasks, so she can earn her reward! Stay tuned for more chastity doll training!