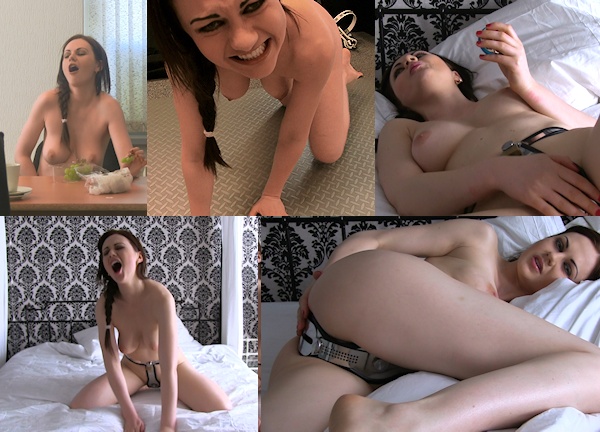 One of the most requested things here on ChastityBabes.com is definitely remote toys inside chastity belts. Which is quite evil, because chastity belts are frustrating enough, why do you want to see a girl vibrated and edged when she is already unable to touch herself!? You are some evil members! And that's why I love you all!
Tina Kay is one of the most awesome girls I could have Challenged with this predicament. Why? Because she is a sexual animal. She is very focused on sex, all day, multiple times a day, in every way imaginable. Just look at her Twitter account. She is absolutely crazy. To put a multiple award winning sex addict porn star in a chastity belt would be incredibly interesting to watch. But to add a remote control vibrator… that is just taking it all the way to the top!
I had such a fun day! I kept buzzing her at random times, even during her lunch, and I found out that the highest setting would make her legs so weak she couldn't even stand! I also kept her on low settings often, so there was no chance of forgetting the vibrator, but there was also no chance she could climax. She was frustrated beyond belief!!
Another fun factor was that this remote control is motion sensitive, but we both didn't know what that meant, and in which modes it would respond to movements. I would often hold the remote, explaining something to Tina, gesturing with my hand unconsciously and she would scream with pleasure! It took me a while to figure out that I was actually causing those vibrations by moving the remote. At some points she even grabbed the remote out of my hands to stop me fiddling around with the settings. But even then she would accidentally vibrate herself at high power, before working out how to turn it off. Yes, we both neglected to read the manual. Oh well, much more fun like this!!