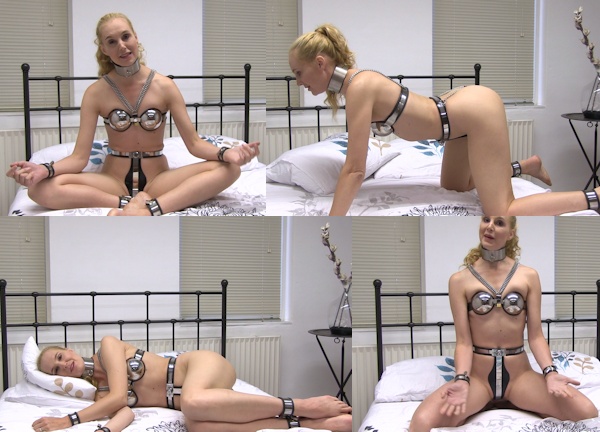 Ariel Anderssen! I managed to get her back for a nice challenge. She is so funny (and tall!), and she loves to make silly videos, talking endlessly about whatever comes to mind. So it would be a nice little experiment to lock her into extremely tight full chastity gear, and let her record a video to see what she was thinking. Because she will tell you what she is thinking. Very eloquently and in a very British voice.
I found a perfect super tight Access Denied belt for her, it fits her like it was made for her! Well, maybe it was a little bit too tight in the crotch area, but that's part of the challenge. She wore a chastity bra before, but again, this one is a bit tighter. It actually made her very aware of her breathing, as she couldn't fully expand her rib cage, which is not easy if you talk as much as Ariel does. Tight wrist cuffs and ankle cuffs closely fitted to her skin were also added, and a large collar of course. Everything was locked, and Ariel wouldn't get the keys until she spent the better part of the day in this gear.
It was her first day of her big European tour and she did not expect this tight challenge on her first day. She loves bondage, but she had kind of forgotten how much like bondage it is to be locked in chastity gear. She reported it was hard to move and she had all kinds of thoughts that worried her a little. The video she recorded when I left her for a while is just hilarious. Ariel is one of the most vocal Chastity Babes ever (except maybe Natalia Forrest), so it is nice to study her videos to see what she is thinking and feeling. Besides that, she is stunning super tall fetish babe locked in nothing but metal, with no keys and just a camera to talk to. It's the kind of video you just want to watch over and over again, it's just so funny and interesting to watch!
Stay tuned for a bonus picture set of Ariel in this full chastity gear this weekend!