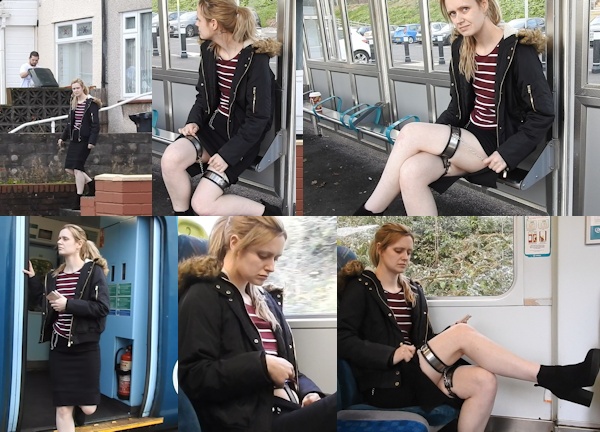 Yes, Sam did it! She went to the station, walked around in public, and took TWO trains! All this in a very very tight chastity belt and thigh bands. Her long skirt was hiding the thigh bands, but the sound couldn't be hidden. And Sam was told to flash her belt and thigh bands as often as she could. Many people must have suspected something, because of the rattling sound, and the way she was walking, but of course… no one said anything.
As soon as she went outside, she was already spotted by a neighbor. Walking down the stairs wasn't easy in thigh bands, and she felt everybody was looking at her. At the station, she tried to sit down in the little waiting area, but her skirt would creep up and she couldn't really sit the way she was used to (because of the belt and because the thigh bands kept her legs together). When the train finally came, Sam tried to find a spot where no one could see her. It was hard to hide all this chastity stuff in a public place! Also, the photographer had made her wear a locked chain on her waist. Even if people probably didn't know what that meant, she felt really conscious about the whole thing.
After the first train, Sam and the photographer took a short walk before boarding a second train. Now Sam was getting a bit more confident, flashing her thigh bands and her belt to the camera, almost revealing herself to the ticket inspector guy. Sam was very tense during this entire experience, but she really loved the excitement of going public with her chastity gear! Let's hope we will see her back in the future for more exciting adventures!
Oh no, it's update number 666! Don't worry, it's not evil…
(well, maybe a little).