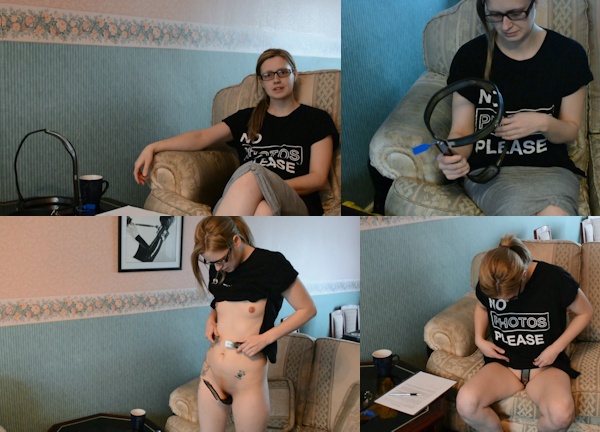 A photographer friend from Wales told me about a local girl, Sam, who had been asking about a Chastity Deal for a long time. She had seen the belt he bought off me many years ago, a very small prototype belt, and she was always curious about it. So I offered them a chance to make some money. If the photographer could keep Sam in that belt for 24 hours, there would be a cash prize!
It would be a hard Challenge, because the belt is very tight. Also, the photographer has a pair of thigh bands (to add later in the Challenge), numbered seals instead of padlocks, and one of my Chastity Deal contracts. So Sam was up for the real Deal. Either she would complete the 24 hours and get her money, or give up and get nothing. I made sure the photographer would make it an eventful day, Sam would have to go out in public, and actually do things (not just wait around the house in her belt). Even though the weather in Wales is probably not the best to do outdoor Challenges… but I guess they are both used to that because they live there.
Sam is a young curious girl with a slim body, and the belt looks amazing on her! This update shows her interview and her belting. She was a bit hesitant and the belt was tighter than she expected, but Sam will be fine. I think it is interesting to see other people film Chastity Deals in different countries. If you know a girl (or better yet: if you are a girl) who wants to do a remote Chastity Deal, just write me! It's become a little bit harder for me to send over free stuff, but it's still possible!