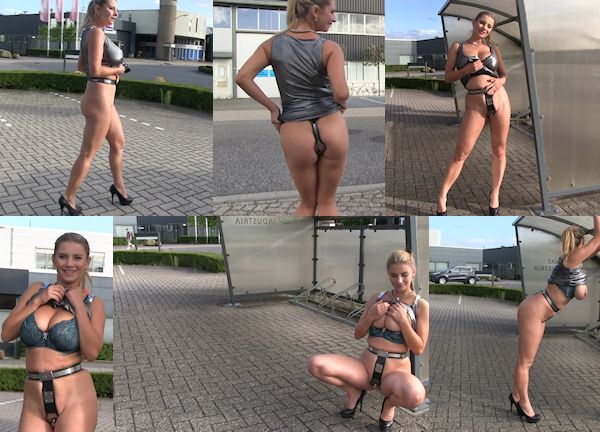 Katerina is crazy! She literally has no fear. We went for a walk in my neighborhood, and I was more terrified than she was. Of course, I have to live there for many more years, and she was about to fly home, so she really did not care if she was seen with her dress raised high, showing her chastity belt to the world.
When we started walking, people in cars and on bikes were already looking at us, because Katarina was wearing a glamourous dress and high heels. Also, her (world famous) boobs are so big, guys just can't help themselves, they stop and stare. Then Katerina lifted her dress and started to walk around with her chastity belt clearly visible. Cars went by, people were walking by, and I am sure some people in the offices were having a peek too. The industrial area was also littered with security cameras, so I'm sure we have been recorded quite a few times.
But that wasn't enough for Katerina. She lifted her dress even higher, revealing her big bra, and got her boobs out! I think we were lucky we did not cause any car crashes! She is the most crazy girl I have ever done any public chastity with (except maybe Yvette Costeau). I was looking around all the time if there were no people coming, but Katerina told me she really did not care at all.
Did you ever show your chastity device in public (male or female)? Were you afraid? Or are you like Katerina and maybe you don't care at all? I have big respect for people with this much courage, it was a great adventure!