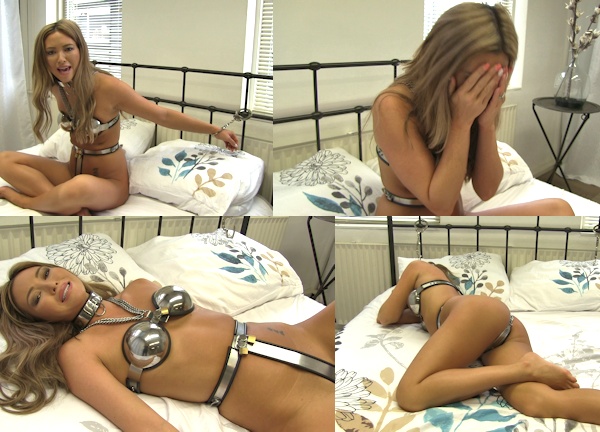 Oops. A very big fail in the Chastity Deal with Natalia Forrest, right at the end of her weekend Deal. She was just waiting to be unbelted on the last day and as a little Challenge I cuffed her to the bed with two pairs of handcuffs. It was supposed to be fun, a quick little tease before she got released later that day, but I kind of forgot about her for a while.
It can't have been more than an hour though (I hope). When I went upstairs again I heard Natalia sobbing on the bed. When she heard me she could only utter a very soft 'hello?'. I immediately realized she was still cuffed to the bed and rushed in to unlock her. She was furious after I removed the handcuffs! In true Natalia style, she did not hold back, cursing and shouting at me. And she was right. It shouldn't have happened. I got distracted.
Natalia was now panicking in a tight bra and belt. This gear was so tight on her waist and ribcage she started to freak out, breathing heavier and freaking out even more. I needed to calm her down, but she just wanted out of the chastity gear. I managed to calm her down (with some effort), explaining she would regret it if I released her now, only 3 hours from the end of her Chastity Deal. She wouldn't get any money and she would have done almost 70 hours in chastity for nothing!
Finally she understood and she calmed down a bit. Then she tried to bargain with me, in a very clever way. She wanted to cut the remaining time in half, and get released in 1.5 hours instead. I refused, but she continued to beg and complain (and threatened to scream for the remainder of the Deal). She then proposed a deal of her own: if she wouldn't complain or be loud (or say anything at all) for 1.5 hours, I would have to let her out. Reluctantly, I agreed. Because I made her cry and forgot about her, handcuffed to the bed. I felt too guilty, so I gave in.
When Natalia was finally unbelted, the marks of her belt and bra were so deep I could really feel them very well. She hadn't been kidding or exaggerating: the gear had been really tight! But she made it! She now SWEARS she will NEVER do another Chastity Deal ever again! We've heard that before… the money is too good ;)
Please note: this was a mistake. Do NOT leave anyone alone in bondage at any moment. Always keep an eye on them.