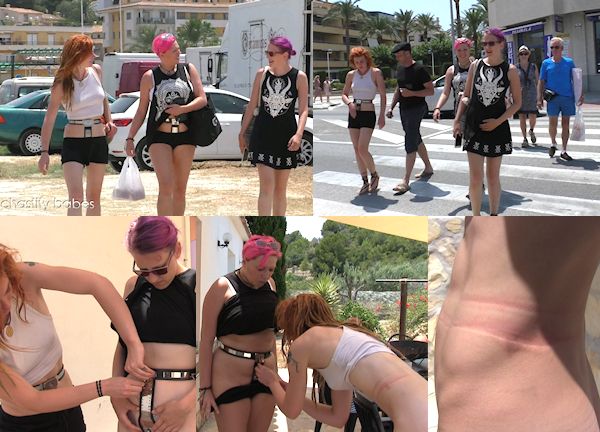 The girls finished their drinks and their shopping in town and they walked back to the car through the crowds, Muriel's belt on display, and Nova's belt clearly visible through her open-back dress. No one said anything. Maybe Spanish people aren't so easily amazed? Or maybe they saw it and didn't know what it was.
Anyway, the girls were in for a horrendous car drive back, on the bumpy Spanish roads, all the way to the villa. But when they got there, the landlord had the best news for them: they would get the keys and they were allowed to unlock themselves, for a last night and day in the villa – unbelted! It was probably about time, the belts had caused a number of problems. Hygiene and chafing were the main issues in the extremely hot Spanish sun. Sweat and heat made those problems worse, but the girls never even asked to be unbelted.
Still, it was better to let them out before any serious issues would arise. It was fun to see them unlock each other, they did not really know these locks very well, so it took a little time, but when they got out the marks on their waists and crotch areas were quite severe. There was no broken skin and only a little bruising, so the girls were alright. It's a small price to pay for free flights, accomodation, transport, and food! Well, they did some manual labour too of course, but this wasn't a bad Chastity Deal at all!
I would like to thank Rija, Nova, and Muriel for their bravery and the landlord for overseeing the Deal. I hope I can organise a nice little weekend myself soon. If you would be interested to join, as a photographer, guest, or chastity babe, please email me, I'm sure we can set something up!