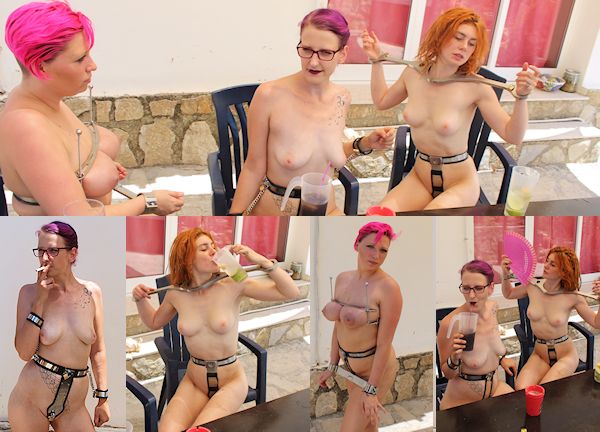 Not only would the girls be locked in chastity belts in exchange for a free holiday, they also had to start their first Challenge right away! These three girls actually wanted to get a drink and sit by the swimming pool after they got belted, but the landlord had something else in mind.
A metal bondage challenge! The girls had to spend some time doing chores in bondage gear first. First, the gorgeous lioness Muriel was locked into metal stocks that are way more heavy than they look. Patiently, she waited until the other two girls completed getting locked into their bondage gear. Rija would be locked in wrist cuffs attached to her belt with short chains, and the poor Nova Pink (still wearing her tit press) would be locked in heavy spreader bar cuffs.
They really had to cooperate to lock all this gear on, and they would have to cooperate even more soon, because some chores (like laundry) were waiting for them. You have to remember these girls are not slaves and this is not slave labor: they are free to get out of the bondage and belts whenever they want, but it would mean the end of their holiday in the sun. Our colorful trio definitely did not want to give up this soon, the landlord had promised lots of fun too, like shopping, going out, and lots of time by the swimming pool!
Some bondage definitely made this holiday more exciting, you can see the girls actually having a lot of fun locking each other up. Chastity Deals with multiple models almost never fail, because they help each other through difficult moments (like peeing and sleeping). Stay tuned for more adventures in the sun!