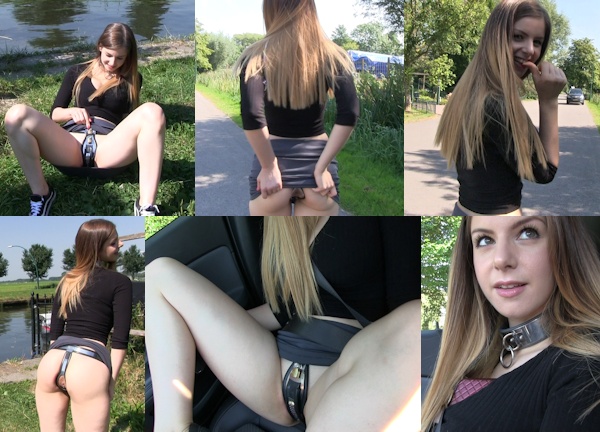 Stella already got horny after a few hours in the chastity belt, but she did not ask me for the keys yet. She probably knew there was no point in asking, but she said she would need a cold shower or she would explode.
Being outside was a lot of fun. Stella is such a naughty girl, she kept bending over, or squatting down (supposedly to find a four-leaf clover), revealing the chastity belt under her skirt. The hip-style belt is so easy to hide, Stella could even wear her short top and skirt and the belt was completely invisible. It would be even better to lock her into a waist style belt, but (as explained here) that belt would have to be custom made for her. Maybe in the future, if Stella really wants to commit to the lifestyle (probably not, considering her job).
It seemed like Stella did not even want to hide her belt! She was lifting her skirt, showing the anal opening of the belt, as she walked back to the car. In the car, she admitted she was getting very excited. For now, she kind of liked the idea of not being able to touch herself. But she knew it was going to be hard in the next few days. Stella was already about to explode and we only just got started.
Little did she know I had some very interesting challenges planned for her! Stay tuned, you really don't want to miss what happened next!