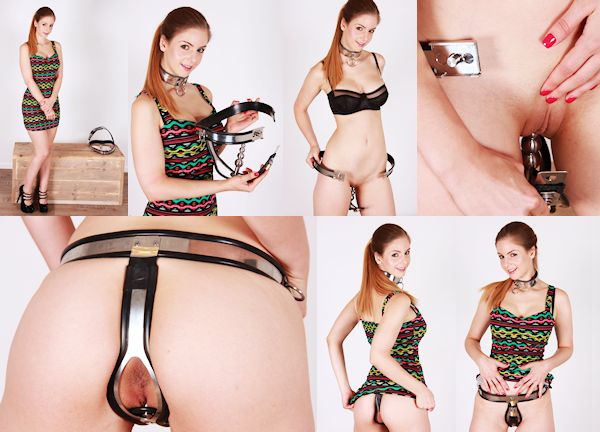 Wow, first I got Dani Divine and now Stella Cox! The famous babes are starting to come to this site! And in this case, that will be extra awesome. To understand why, you need to google Stella Cox if you never heard of her. She is the most extreme nymphomaniac you have ever seen. She needs sex, she wants sex all the time, and she touches herself every day at least 20 times (and orgasms about 3 or 4 times a day on average, some days she even has over 25 orgasms!!).
To get Stella on my site has been a dream, and now it is reality! I can't believe she was in my studio for a Casting (she did not have more time, but she promised to be back soon). Of course, I had to add a plug to make her extra horny, because it is STELLA COX! One of the My-Steel hip style belts was such a perfect fit for her! Very tight (no prying fingers) and very sexy! Stella is famous for her unusual body type, with a very high waist and large natural boobs. Her high waist will make it hard to find a waist belt for her, but no worries: this hip style My-Steel was a lot better in this case!
The standard 4-ball plug from My-Steel is fairly large, but Stella has seen it all, so it slid right in, without any problems. Stella loved the feeling of being plugged without the possibility to take it out. She wasn't so sure when I started talking about a Chastity Deal though, even 3 days would kill her! She needs to touch herself every day, multiple times a day. Still, I really want to try and get her back for a Deal. It will be hard, because she is so famous, she has a lot of bookings as a model. But I'm sure she can come to Holland for 3 days if I offer her the right prize money for completing a Chastity Deal. Plugged of course!!!