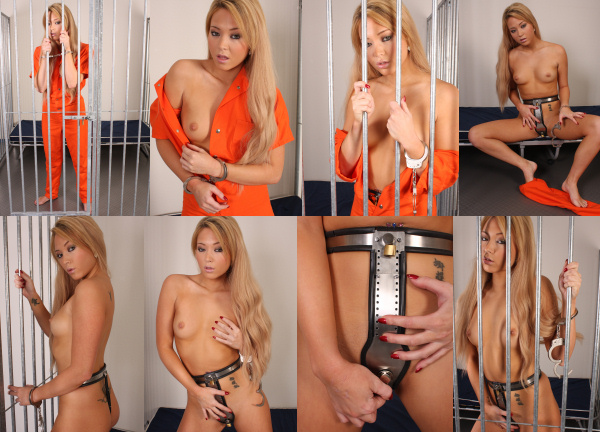 Natalia doesn't remember how she ended up in prison. She is wearing an orange jumpsuit and her wrists are handcuffed in front of her. Natalia rattles the prison bars and starts yelling, but no one answers.
It looks like she will be here for a while. Even worse, she feels something restrictive and rigid under her jumpsuit. Panicking, she tries to take off her jumpsuit, but she can not take it off all the way because of her cuffs. It looks like there's a metal belt around her waist!
After some time, a guard unlocks one of her handcuffs without saying a word. He leaves again. Natalia wastes no time in taking of the orange jumpsuit, revealing a tight chastity belt! 'What have you done to me?', she shouts. Again, no answer.
Real panick is setting in as Natalia realises she can not touch herself, which would be the only thing to make her life in prison a little bearable. Lots of questions start to come to her mind. What is this? What prison puts chastity belts on their female inmates? What if I need to go to the toilet? How long will I be belted? This is terrible!!
We hope you will enjoy this first edition of our 'fantasy' updates, inspired by our members' requests!