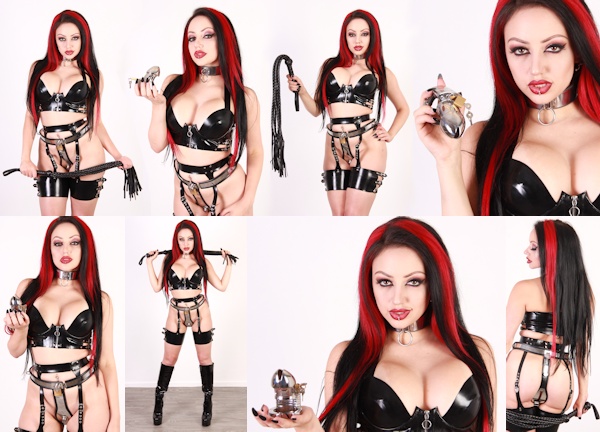 Dani Divine is definitely the most popular fetish model at the moment! She has an awesome amount of likes and followers on Facebook and Instagram, so she probably does not need an introduction.
Dani is a latex model, and she has never been locked in a chastity belt before. She is a dominant girl, so she prefers to lock others in chastity, but that's not how it works here at ChastityBabes.com. I managed to get her in my studio for a Casting, and that meant she would have to be locked in a real chastity belt, keys taken away, no excuses. A Neosteel hip style belt turned out to be the perfect fit for her. Combined with her stunning latex outfit, the belt looked so amazing on her I almost forgot to take pictures. Dani definitely makes a chastity belt look good!
In fact, she still looked very dominant. Some girls just have such a strong attitude! She grabbed a flogger and started to pose for pictures and video. Don't hesitate to join and download this update, it is amazing! Dani spotted a few male chastity devices and she grabbed the heaviest one. She said she would love to lock one of the members in it, rather than being locked in her NeoSteel herself. I don't think Dani can be tamed, but I asked her if she would consider a 3-day Chastity Deal weekend in Holland. She said she would think about it. That's hopeful!
I don't think I have ever locked up such a powerful girl. Dani was amazing and we had a great day. I really hope she will come back for a Chastity Deal! It would be so great to spend a weekend with one of the most famous latex models locked in chastity. But I think I will have to watch out she doesn't lock me up as well!
Please download and enjoy this update, it is definitely worth supporting my website to see more content like this in the near future!