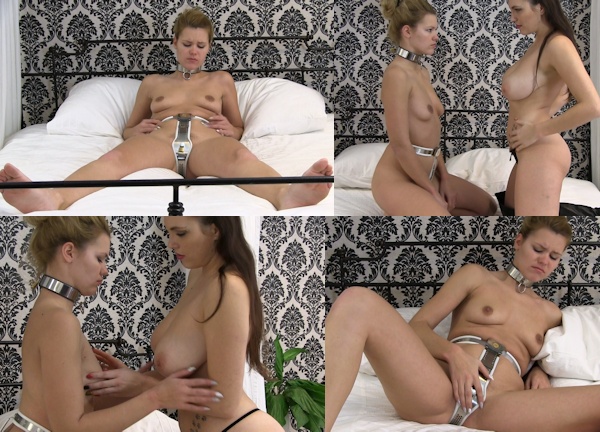 Izzy was belted by her mistress Sam, and the cute blonde was left very confused and frustrated. But mistress Sam was not done with her!
What is even more fun than belting a girl? That's right: teasing a belted girl! Sam Lee definitely knows how to use her body to turn on young Izzy Delphine. She allowed Izzy to undo her corset, revealing her spectacular boobs. Sam even let Izzy squeeze her boobs, and take comfort by offering them as a pillow for the poor frustrated Izzy.
You might think this is all very nice of her, and Izzy was probably hoping she was going to be unbelted soon. They played and squeezed for a while, until Sam suddenly got up and left! Now Izzy was even more frustrated! She was hot, horny, and a little desperate. Why would Sam turn her on and then suddenly leave? Izzy tugged at the belt's lock, but it wouldn't budge. This was super frustrating! I loved this little scene, Sam is so gorgeous and mean, and Izzy was about to explode! Don't miss it!